To Inspire Buffalo
Is Our Mission
We at Inspired Buffalo love helping people, businesses, and organizations with their print and design needs, find fun and unique Buffalo-themed art, as well as create personalized gifts that a loved one will treasure. You can create your own design from art, photos, or handwriting with our easy-to-use software or we can assist you in designing it.
Inspired Buffalo was dreamed up by Marinette Kozlow, a graphic design artist. She established a design and printshop in the Black Rock neighborhood of Buffalo, NY, in the same commercial space where Marinette's family had run a mom-and-pop shop for years.
Each product is created with care and expertise. We and our network of printers use a variety of processes and we're proud of the quality work we give our customers.
Customized Apparel
Personalized For You
Shop T-shirts, Sweatshirts and Hoodies in sizes for the whole family, as well as infant onesies. Choose from our existing designs, create your own using our easy to use software, or send us your photo or art and we can help customize it for you.
About the Owner
Marinette Kozlow
As a young girl, Marinette Kozlow grew up watching her mother run a family corner store in the Black Rock neighborhood of Buffalo, NY. Her mother flourished in this role and shared her caring heart with customers, becoming the neighborhood "counselor" to the adults and "grandma" to the children. When she saw a need, she met it, whether it was someone who needed encouragement or a meal.
Marinette started Inspired Buffalo in 2010, with her mom's caring and hardworking entrepreneurship providing all the inspiration she needed. This design and printshop was the perfect way for Marinette to continue working from home and homeschooling her three boys while her husband, Tim, worked outside the home. The business started with freelance graphic design and greeting cards featuring Buffalo themes. Within two years, Inspired Buffalo added a Direct to Garment (DTG) printer and shortly after, Tim retired and joined his wife in the family business.
In 2015, the Kozlow's story came full circle as they purchased the commercial and residential space in Black Rock belonging to Marinette's mother. They renovated from top to bottom and brought new life to the property at 115 Hertel by establishing their design and printshop there. And if that's not inspirational enough, Marinette's mother also helps out in the printshop and is surrounded by family again.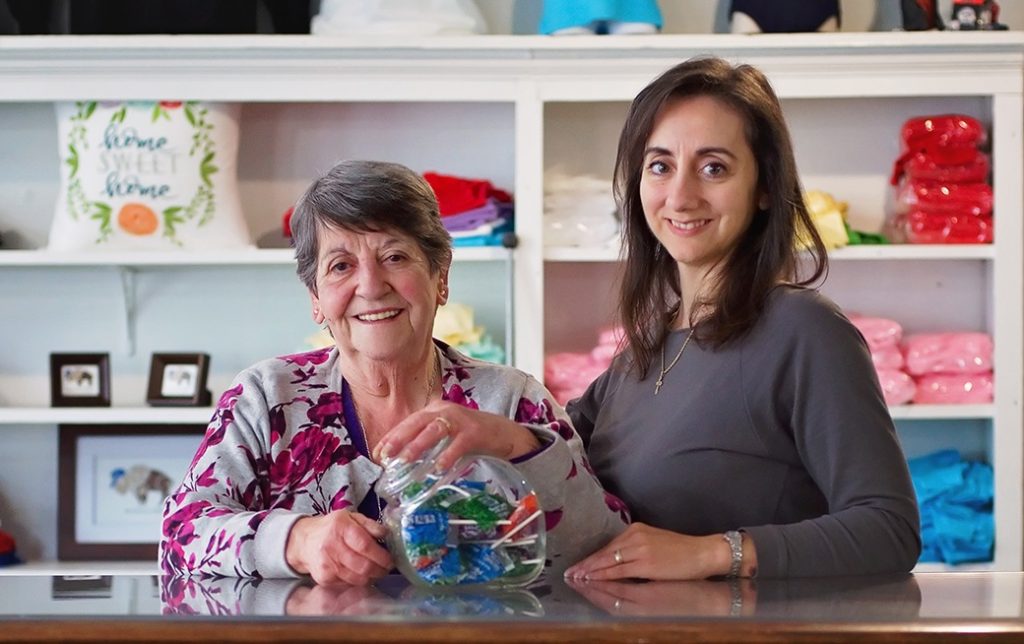 One of Inspired Buffalo's main purposes is to custom make meaningful gifts for people, including providing a way for people to honor a loved one that is still here or pay tribute to someone's life. For example, Inspired Buffalo can bring handwriting, pictures, or even recipes to life on the simple canvas of a tea towel or onto hand-sewn pillows.
"We spend extra time to be sure that it comes out as close to the original as possible," said Marinette. "We hear many stories of recipients being teary-eyed and deeply touched when they open their gifts. It brings us much joy to watch our work become treasures in another's eyes."
Customer Satisfaction
What Our Customers Are Saying.
"
The printed photo panel is absolutely gorgeous and the colors are so clear. This will make the perfect memory pillow for two special boys.
"
I received these towels from a dear friend for my birthday, custom made with my favorite family recipes. Wow, what a special gif! They are big beautiful towels of such great quality and my friend tells me that the creative collaboration was a joy. Bravo Inspired Buffalo!!!
"
An amazing service! I needed a last minute job done after another company fell through. Not only was Inspired Buffalo able to have the work done in under 48 hours, it looked and felt amazing! I will definitely be using them for our group shirts in the future. Amazing work and great customer service. Love this little local shop.
@inspired.buffalo
We're On Instagram