Cherry Blossoms and Cardinals
Cherry Blossoms and Cardinals
Through the glass of my shop door is the perfect view of a beautiful tree that is covered in cherry blossoms each spring and displays bright crimson red leaves in the fall. I've had the pleasure of admiring this tree for most of my life. You see, I grew up in this mixed-use building that I now own and run my shop in. This is where my mother operated a corner/candy store in the front commercial space while we lived in the back apartment.
Right across the street, where this tree sits, were wonderful neighbors, Al and Helen Ferris. They have 2 girls close in age to my sister and myself. They moved to the neighborhood shortly after we did and the daughters and I have remained friends ever since. Sadly, Al Ferris died close to 20 years ago now. He left us much too young. Most recently, his wife, Helen, passed away just last fall. She had always loved that tree. 🌸💗 Jennifer, one of Helen's daughters requested I put this photo of her tree in her mother's funeral program when I designed it. I felt it was just so appropriate.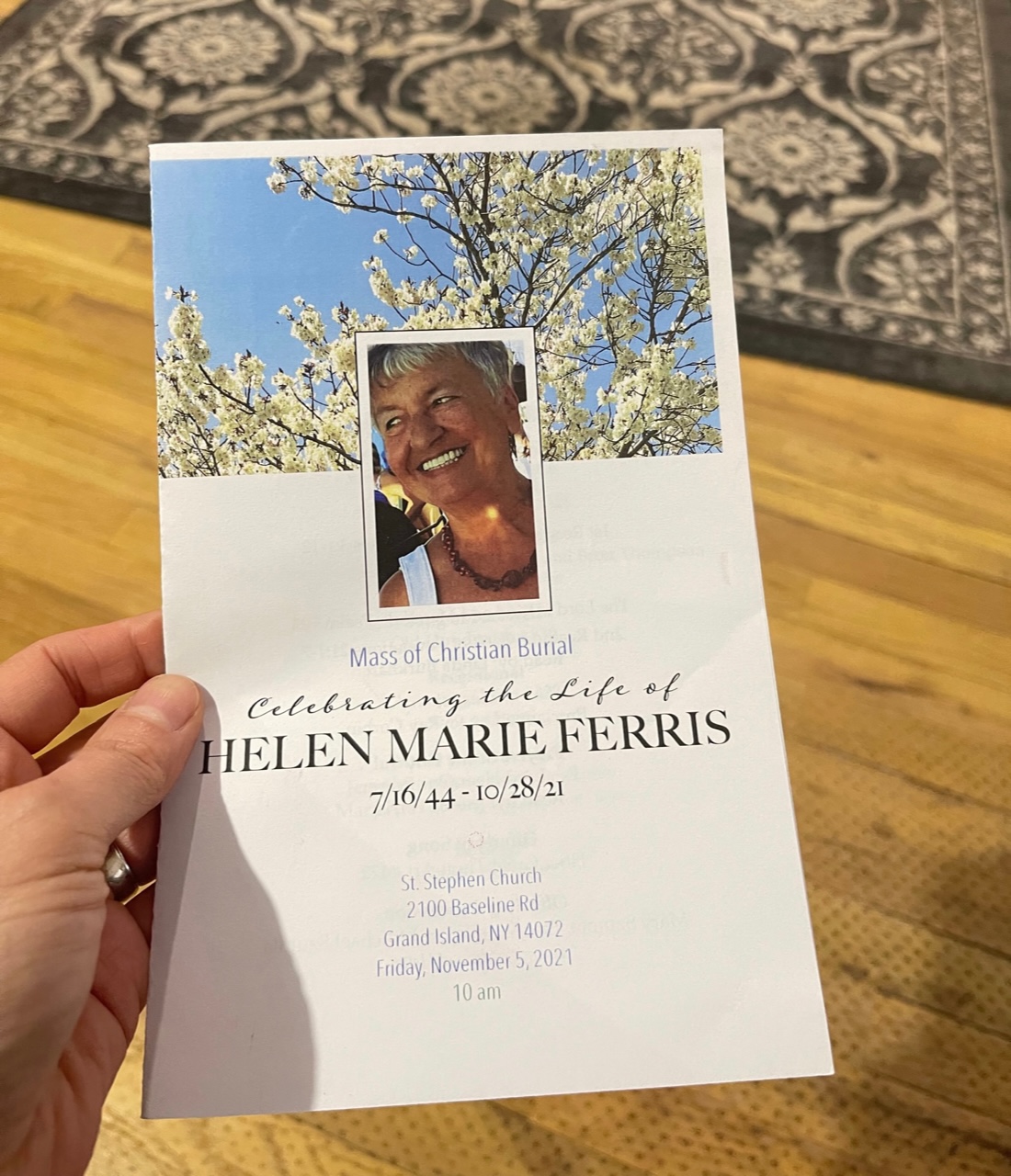 This is the first spring and Mother's Day without her for my two sweet lifelong friends. I'm sure it will be difficult to go through this holiday as it is for so many who've lost their mom.
Working Through My Emotions
I felt led to draw — it's one way I sort through my emotions. I illustrated a cardinal sitting on a branch surrounded by cherry blossoms — I love how it turned out, it's a way for me to honor Helen and her lovely tree while also honoring all the moms who are deeply missed. I've printed this design on pillows, mugs, and more but I made special pins to give out for free to anyone who has lost a mother and comes to my Mother's Day Springtime Shopping Party this Sat, April 23, 2022 from 10-2.
I made a short video on Instagram, also known as an Instagram Reel, about the pin. For a better view of it and to hear me talk about it, just click on this
link
.
Hopefully during my party you will see some of the blossoms open! What is for certain is that in a couple of weeks it will be in full bloom. When I stare out the window, I will be reminded of Helen. Maybe I'll see a cardinal in it and it might be her visiting us for a quick hello.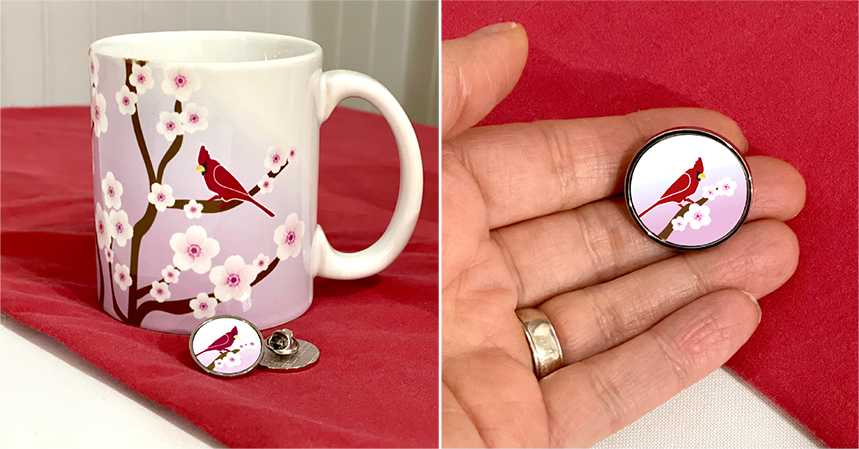 Do you believe you've been visited by a loved one when you see a cardinal? It really does make you stop and wonder.
Please share this with someone who would love to receive one of these pins. This is my free gift to all who are missing their mothers right now. Come to my shop during my Mother's Day Springtime Shopping Party this Sat, April 23rd from 10-2 to receive one, while supplies last.