I'm Feelin' 2022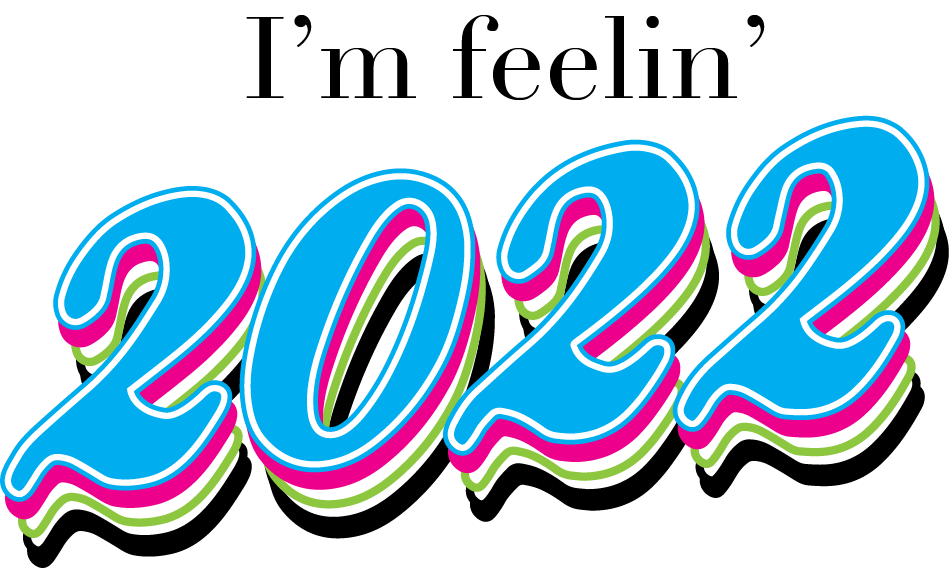 OK, if you haven't heard that phrase over and over yet I'm sure you will. That song from Taylor Swift is the perfect opening theme to this new year. Before I get ahead of myself talking about goals and dreams, I'd like to first discuss 2021. For a lot of us it's brought about a lot of change and I'm no exception.
Well, let's go back a little further…during the 2020 shutdown, my husband, Tim — who was also my printer — and I looked at each other and went through the whole gamut of questions inside our eerily quiet print shop that is supposed to help support our family. "Maybe we should close permanently." "Maybe we should not both be self-employed at Inspired Buffalo." I said, "Maybe I stay open and you get a different career." We chose the latter.
Putting Thoughts into Action
In January 2021, Tim enrolled in a trade school and would print for me when he came home. I didn't really want to make any permanent decisions until we knew he liked the path he was on and could make a living at his new trade. June came along and graduation was fastly approaching. We were still unsure if he was going to make the leap. Were we really going to stop in-house direct-to-garment printing? What will that look like for the business? I was actually starting to feel like if I sold my DTG printer that I'd lose my identity. Looking back now, it sounds absurd but it was a true concern I had. At the time, it had been 8 years printing in a fairly new technology that we mastered. How can I own Inspired Buffalo and not have my printer?
Well, after much back and forth, we went for it. Before graduating, Tim secured a full-time job with a great company. I sold my machine and much to my nervous surprise business has been good! Do I still print in-house? Yes, I still have a printer that allows me to print on ceramics, metals, wood, and fabric. Do I still print, cut, and sew items such as pillows? Yes. What about t-shirts and other garments? In that way, I've become a print broker. Over the years I've grown very knowledgable in the various print processes out there and who the best printers are that offer those services. I have developed a great working relationship with these silkscreeners and DTG printers. Without a doubt, I trust them to give me excellent quality products for my customers.
The transition wasn't an easy one, though. To be honest, most of the challenge was internally. I felt lost for awhile and I knew I needed help getting focused on what I really wanted out of my business. After 8 years of direct-to-garment printing, it was understandable to feel lost and not know what to do next. During those years, I morphed from an artist into a printer and now that physical piece of equipment was leaving the building. What I came to realize was I lost sight of a passion of mine which is creating. I simply love to illustrate. I wanted both worlds, offering print services and selling my designs but didn't know how to do them both.
At the recommendation of a trusted friend and female entrepreneur, Janna Willoughby-Lohr, I hired Nicholle Overkamp from PowHerhouse Money Coaching. Nicholle was Janna's coach a few years ago and got her on a good trajectory. I've watched how Janna over the past 5 years has grown her business, Papercraft Miracles, exponentially. That was evidence enough so I, without hesitation, contacted Nicholle.
Nicholle Overkamp and the PowHerhouse team were WONDERFUL to work with. Thankfully, Nicholle reminded me that the special sauce that makes my business isn't in a piece of equipment but in me. They really helped me to gain confidence and clear my head. By doing exercises such as "brain dumping" I was able to sort out all the clutter and over-thinking that occupied so much of my time. They were huge in assisting me in organizing my thoughts into a logical way to explain what I do to others. They were also instrumental in developing strategies for my business. One of the strategies was setting up a retail space inside my shop and opening up my studio periodically to sell my designs. My very first one was in October and I found it to be a great success (see picture below).
My official list of services I offer:
Custom Print + Design T-shirts for
• Organizations
• Events
• Sports teams
• Fundraising
Buffalo Themed Art
• Clothing
• Accessories
• Home goods
• Drinkware
Hand-crafted Personalized Gifts
• Tribute items
• Memorabilia
• Celebration
The Results?
I'm proud to say that after 5 months of working solo without my husband as my printer and without offering in-house DTG printing, that I've kept up my sales and even surpassed the previous two years! I would not have ever imagined I could have done that. Each person that has purchased from me and referred me to someone; every school, business, and organization that has chosen to work with me has helped make this happen. I cannot thank you all enough! So, yes, I'm feelin' 2022 and looking forward to what new opportunities lie ahead. One thing is for sure, there will be lots more fun designs I will be releasing this year so stay tuned!
HAPPY NEW YEAR, 2022!