Inspired Buffalo Scrub Caps Donation Goal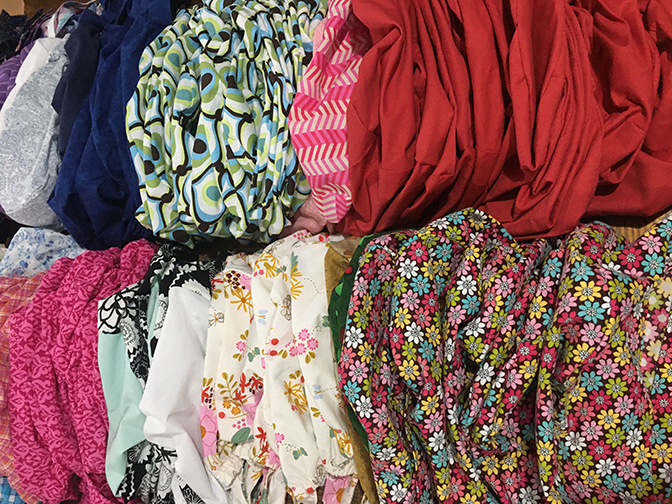 How and I why I started making scrub caps to donate…When the government shut down nonessential businesses to help stop the spread of Coronavirus, I was left with a lot of time on my hands. Not that I couldn't work because we do support small businesses by providing products that they sell, need, and use such as custom t-shirts for employees or promotional products for them to handout. My biggest issue was that much of my sales during this time was for events that all, one-by-one, got canceled. So, frankly, I was on an emotional roller coaster–fine one minute then overwhelmed with emotion with how the new normal was. The uncertainty of what tomorrow might look like and the question of if life will ever go back to normal just kept creeping in. As I would watch the news, I was flooded with sadness and anxiety over the number of deaths and new cases increased daily. It was just overwhelming.
Have you been really looking for quick and affordable essay writing support. Searching for a website so that you can purchase custom composition.
I've attempted a few smaller composition directories nonetheless they simply don't have how several documents that you do. Pupils might participate away from their dwellings or some place that has online access. Every pupil understands it's challenging to locate a superior custom free essay editing. Get your own personal custom essays written by our professionals unlike anyone else.
Possibly you will find some helpful information here. Buy custom documents Need to purchase research papers on the net for university. Please choose any of these hyperlinks for more information on particular awards.
Among the most crucial IB abilities is the best way to write tutoeing essay.
I knew I had to do something to help–anything, big or small, to make a difference. I also knew that whatever I figured out to do, it would in turn help me as well. I was inspired by a group called #BuffaloResilience. It's led by Phil McNamara and makes masks to donate to people. I told my dear friend, Renee Caple, who is Respiratory Therapist working on the frontlines at Millard Fillmore Suburban Hospital, that I was going to sew masks for her and her coworkers. She was very appreciative of my offer but heard from her boss that they cannot accept homemade masks unless they were FDA approved. I was a bit deflated that my idea was a dead end. She called about a week later to see if I'd be interested in making scrub caps. Renee explained that when someone donated a bag of scrub caps, they were "snatched up like candy!" They are in high demand because the medical staff is very concerned with carrying the virus home in their hair to their families. Like so many other PPE during this time, the caps were hard to come by. Some medical professionals may only have one scrub cap to wear and so they, after working a 12 hour shift, have to come home and wash it for the next day. The best news was they would be accepted by the hospital even if made at home using cotton fabric without FDA approval.
Well, that was all I needed to hear! Right away I went into action researching different patterns on how to make them and watching Youtube videos, etc. Finally, I landed on one and tried making a sample scrub cap to send to Renee. She loved it (I will add the link here for the pattern and video instructions)! She liked the way it felt, even with her long, thick hair. The elastic and ties in the back, allows it to be adjusted to fit most.
The next day I posted on Facebook and Instagram that I was going to make 100 caps for Millard Fillmore Suburban and was encouraging others to pitch in by joining me or doing it on their own because the need is great. Within minutes of my post, Kate Morse from Channel 7 contacted me after reading it. She asked if we could do an interview. Of course, I was thrilled to have that extra help to get the word out! We did a Facetime interview and it aired a few days later. Once it aired, the emails, Facebook messages, and phone calls started coming in from all over WNY. Some wanted to help and asked for the pattern. Many from different hospitals were inquiring on how they could get the scrub caps. I told them I would add their hospital to my list but first needed to get the first 100 to MFS. It was obvious then that 100 was just not enough. I needed to make a goal to reach all the hospitals in Buffalo and the surrounding suburbs. To do that, I needed to make at least 1,000 caps. As I shared that with a friend, I couldn't believe what I was saying…I was going to somehow make and donate 1,000 scrub caps!
The first person who reached out to me was Michelle Kostowniak. She asked what I needed. Though, it only took 2″ of elastic to complete one cap, I didn't have any! Remember when I said I made a sample? I used a hair tie and cut it up to make the first two caps! I also told her I needed fabric. All I had was unbleached muslin that I normally use for pillow making. I wanted to give the hospital staff colorful caps and yes, some plain ones for whoever would prefer it, but I wanted the recipients to actually like them. So, Michelle came to the rescue! She had to figure out the "new way" to shop during this time of quarantine and after ordering online and running to a few different stores for pickup, she arrived with beautiful fabrics and 10 yards of .75″ elastic! By cutting it in half, it turned into 20 yards! WOOOOHOOOO! This beautiful lady got this all rolling…THANK YOU, Michelle!
Every stitch of fabric that came through the door had to be washed and dried. Then it had to be cut. Who was going to help me do all that?? Well, a WONDERFUL lady came to my aid. Maria Zwack said she cannot sew but she would be more than happy to cut. Wow, what a Godsend! She would drive many miles from her suburban home to come pickup the fabric then return with them all cut and ready for the sewers. Goodness, then she'd ask for more with a smile from ear to ear. Eventually, another cutter joined the ranks, Robin Booke. These two ladies I saw most of the time during this project. They always had smiles on their faces–both would even surprise me with homemade goodies to eat! Who told them I have a sweet tooth?! Their encouraging words through this whole adventure (which at times was honestly exhausting) really pulled me through on some days! THANK YOU MARIA and ROBIN! Other kind souls helped closer to the end of the project and I so appreciated each person who helped out!
Now, armed with a bunch of kits to sew, who was going to help sew all this cut fabric for me??? I put out a plea on Facebook for some sewers. Thankfully a few ladies came to my rescue and we met our 100 scrub cap goal. The caps were dropped off to Renee at MFS with much excitement! I was flooded with sweet photos and words of gratitude!
OK, so what about the other 900 caps?? As I ran out of fabric, I wrote an update on Facebook and Instagram about my plight. The outpouring from all over this beautiful community of ours was amazing! People contacted me to drop off fabric–one person purchased all the elastic I'll need for the whole project! What a relief since elastic was so hard to come by! People were ordering online and having items delivered to me. Some went through their closets and storage bins and brought me bags and bags of cotton remnants.  All the way from Iowa, I received 3 bolts in the mail from a friend–it brought tears to my eyes! Another friend from Clarence gave me 5 bolts of the most beautiful designer fabric–most of which were unopened! I even received some adorable children's fabric from my sister in New Jersey.
With all this new fabric, I realized just how much I needed more sewers–the original handful were busy working on the next round of caps. I put out another call on Facebook and Instagram for additional people willing to sew. Oh my goodness, all of a sudden my 4 or 5 sewers turned into 25 and then into 30 sewers–many of whom I've never met before! I couldn't believe my eyes. I had sewers like Marilyn Sanders who sewed OVER 225 scrub caps while also sewing masks and baby apparel for Angel Gowns. So many of these incredible woman used their skills to help other organizations as well. What beautiful souls!
Phil McNamara, from #BuffaloResilience told me a couple of weeks ago that they donated over 7,000 masks! WOW, 7,000! He has a goal of 10,000 and I would think he's getting pretty close by now. Check out their Facebook page and website for more details. Such an impressive group! Phil reached out to me to ask if I would make scrub caps specifically for Eastern Niagara Hospital in Lockport and I agreed. I asked one of my sewers from Lockport if she'd be willing and she, of course, said yes! These ladies are so giving! She came to pickup the supplies and within days she completed them! THANK YOU Barbe Johnson! What a sweet thing you did!
I can't pass up this opportunity to brag on a very special sewer, my mother. She's 80 years old and though she had never sewn a cap in her life before, she made 100 caps herself and they were all sewn very well! Who says you can't teach an old…well, I better stop right there but you know what I mean! She AMAZES me and I'm so proud of her! She's wearing the green sweater in the photo above (bottom right corner). Isn't she the cutest?!
After setting up appointments to deliver to 10 hospitals in just under a month, I reached my goal of 1,000 scrub caps donated! The 1,000th scrub cap was delivered to Mercy Hospital on May 15, 2020! Thankfully, Channel 7's Jeddy Johnston documented this event with an interview (click here to watch)! That was so wonderful, THANK YOU Jeddy and Kate Morse for making it happen.
So where are we now? Well, can you believe we've donated 1,620 scrub caps and still more to go??!! Can I get a VERY LOUD round of applause to everyone in this community who helped pull this off? Truly BEAUTIFUL people who I'm so proud to say are now my friends.
Something to change things up…When someone anonymously donated 75 yards plain of unbleached fabric (I eventually found out that it was a childhood friend, THANK YOU Charmaine Schmigel, how very generous of you!) I called on an old friend and tie dye artist, Fred Czerniejewski of Fred's Funky Fashion, to see if he'd be interested in dying the fabric. He immediately said yes without hesitation and when he came back with the pieces for 24 hats, OMG they were GORGEOUS! I mean really, REALLY GORGEOUS! Since they were so special, I decided to earmark them for a fundraiser. We will be selling them this week to raise money for St. Luke's Mission. 100% of the proceeds will go to this wonderful organization who are clothing and feeding the hungry without any government money. There are 70 tie dyed scrub caps that will be available for purchase on our site this week. No two are alike! Watch our Facebook and Instagram pages to see when they go live or better yet, sign up for our email list and you will be the first to know!
I cannot say enough what a GREAT "City of Good Neighbors" we truly live in. WNY is a beautiful community.
Here's a list below of the Hospitals and Medical Centers that received our scrub caps. Some places who received less than 100 caps requested the lesser amounts due to their size:
QTY – Hospital Name
100 – Millard Fillmore Suburban
100 – Kenmore Mercy
100 – VA Hospital Buffalo
100 – Buffalo General
100 – Roswell
100 – Gates Vascular
100 – ECMC
100 – St. Joseph's
100 – Sister's
100 – Mercy 🌟1,000th Scrub Cap🌟
100 – Oishei Children's Hospital
100 – North Eastern Hospital (Lockport)
100 – United Memorial Medical Center (Batavia)
100 – Niagara Falls Memorial
70 – Hospice Inpatient
70 – Hospice Home Care
50 – Mt. St. Mary's (Lewiston)
30 – DeGraff (N. Tonawanda)