DTG Printing: What is it and when to use it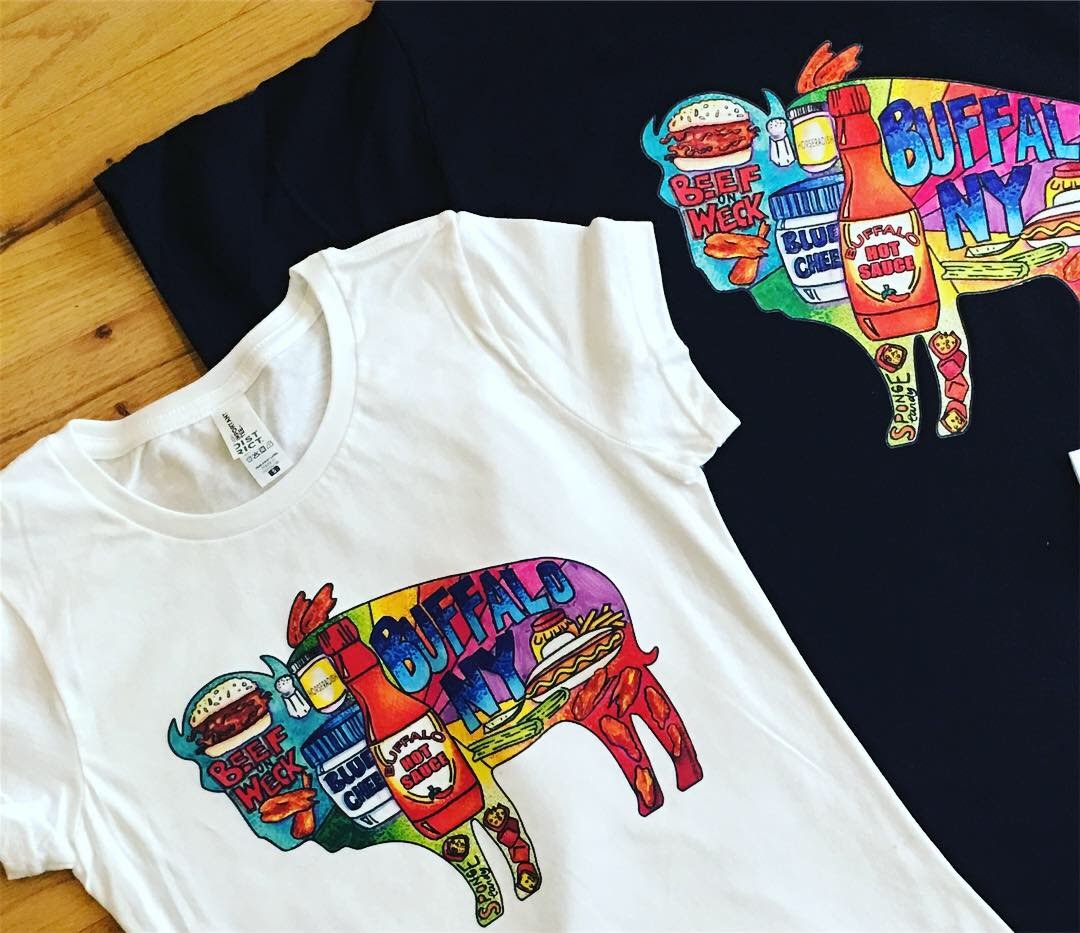 Buffalo Foodie t-shirt art is by Dan Predmore. Find it exclusively here.
We've been doing it for over 7 years now, longer than most in the WNY area, and I'm here to help you understand the mystery of it all.
In traditional silk screen printing, a printer must create a screen for each color they print which consists of a multi-step process of washing the screen, letting it dry, spreading emulsion, letting it dry, create a film, expose it to light, wash out extra emulsion once developed, and let it dry again before you can use it. Are you tired yet? Then you get to do it all over again if there's another color.
What's fascinating about DTG or direct-to-garment printing is that there are no screens, it's completely digital and no, it's not a transfer. As the name describes, it prints directly onto the garment. Imagine printing with a giant ink jet printer for fabric.
It may seem like it's just a click-and-print process but it's not. DTG printers are popping up all around WNY but they're not all the same. It takes skills, that my printer (who's also my husband, Tim) has developed over time to create consistently beautiful prints. True story: another DTG printer asked me if I could pass along some of Tim's secret sauce and I said that even though I trained him how to print, I don't know how he does it!
Here's some of the pros and cons:
You can print as many colors as you like, there's no limitations–well, no limitations on color except for metallics and exact Pantones. However, I can see that happening in the near future!
It's quicker and less expensive for smaller run jobs because there's no setup or screen production.
There's no minimums! You want one, we can do it–it's perfect for personalization. Want more? We can do that, too!
Though setup is quicker for DTG (no setups/screens) it is slower than traditional silk screen during the actual decorating of the garments, MUCH slower. What would take a silk screener only hours to print could easily take a DTG operator double or even triple the amount of time.
You can silk screen on nearly any fabric and, though Technology is constantly changing, most DTG printers will not print well on Polyester or other synthetic materials. Why? because unlike the plastisol inks used in traditional printing, DTG uses water based inks that only absorbs into natural fibers best.
DTG's water based inks give the garment a much nicer hand feel.
In a nut shell, traditional printing wins, hands down, on larger print runs and decorating on synthetic fabrics. DTG wins on the shorter run projects and jobs where the art contains many colors.
SAVE THE DATE: If you're still intrigued, you can come see our DTG in action by attending our Printing Party on Thursday, April 23rd from 6-8 featuring the award winning watercolor artist, Jody Ziehm. Pick one of the select art pieces on display to be printed on a t-shirt, tea towel, or tapestry and we'll print it in front of you to take home that evening. We'd love to see you here. For more details, go to our site.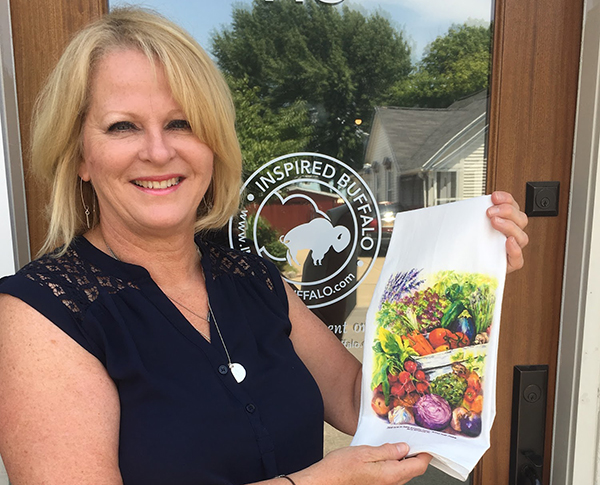 Pictured above is Jody Ziehm holding her painting we printed on tea towels for a Farm to Table event that was held in North Tonawanda.