Looking at WNY with New Lenses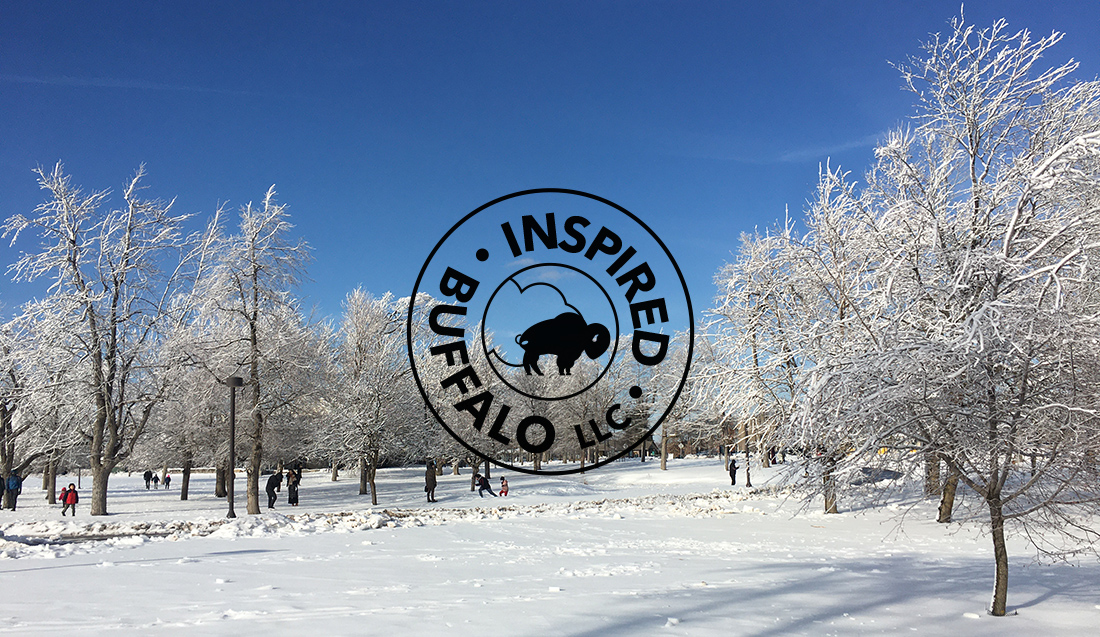 I've lived in Buffalo nearly my entire life. Minus the part where I was born in Lebanon and came here as an infant, Buffalo has been my home. With this region having 4 beautiful seasons, we get a lot of amazing views. I love enjoying spring, summer, and fall outdoors but I have to say, probably spring is my favorite as the anticipation of new life coming forth after a long cold winter always brightens my spirit. Did anyone notice how I failed to mention winter when listing the seasons I enjoy outdoors? Well, that's because that's my hibernation season. I leave the house on a need to basis and that's when I see the views, from my car. 
Maybe what caused my dislike for cold weather activities is because one of my earliest memories was of my family and I going to Chestnut Ridge, I was about 5. While sledding downhill wearing knit mittens, my fingers couldn't handle the cold. Clearly, the mittens weren't doing their job and just froze my little fingers. They ached with pain and I just sobbed. I had to stay inside by the fireplace to warm up for the rest of the time while I watched everyone having fun. Fast forward to teen years when I would be standing outside waiting for the bus for school and in my 20's when it wasn't cool to wear winter hats (it would mess up my hair for heaven's sake) and boots weren't fashionable, at least not the warm ones, lol. So, let's face it, most of my life has been spent hating cold temps and always hiding from it because I continually froze. Mind you, most of it was my own doing by not covering up properly but, nonetheless, in my mind winter meant cold and pain so I chose to stay warm in my cozy home as much as possible.
In the Spring of 2020 when the world was shutdown all we could do was stay indoors. Suddenly, the frigid temps didn't seem so intimidating. I told myself that if I bundle myself up really well, I will be just fine. So, off my husband and I went. We would go on long walks exploring areas we've never ventured before. One stop was Medina. After driving for about an hour to get there and then walking around the village for awhile, we were hungry! Now to find a place that was open to get takeout from. Luckily we found a pizzeria right on Main St. and because it was takeout only, the next thing I knew we were sitting outside on a bench eating with our coats on. I went from hardly going outside in the winter to having a meal on a cold day outdoors on a bench, thankfully the sun was shining!
Summer eventually came and more exploring commenced but what I told myself was that when the temps start to drop again, I was going to continue my walks no matter what it was like outside and that's exactly what I've been doing. Let me say, I've been LOVING winter for the first time ever. Here's some places I've explored recently. Yes, some I've seen in the warm months but never in the snow.
1. Niagara Falls, NY
I get it, if you've lived in WNY even for a short while you've seen Niagara Falls COUNTLESS times. I had a dear friend visit me from England when I was in college, being that I was in my early 20's, I really didn't know where to take her. Years and years later she revealed that I took her to see the Falls TOO MANY times–OOPS! What I want to emphasize is that, yes, you've seen it before but have you seen it in winter? If not, put on your warmest coat and go! It's so worth venturing out. As we were walking along the path approaching the falls and its mist, we rounded the corner and up ahead of me were what looked like crystalized trees everywhere — it was so magical with the sun making the ice glisten on the branches! Then I saw people walking on top of the snow and they weren't sinking in. Yes, even the snow was frozen over though, thankfully, it was walkable. What I found so interesting is how some of the rapids were completely frozen over (see last pic) — just mind boggling. From what I've heard, the water isn't too deep under the footbridge going to Three Sisters Island. Truly, theres so many new things to discover in Niagara Falls during winter.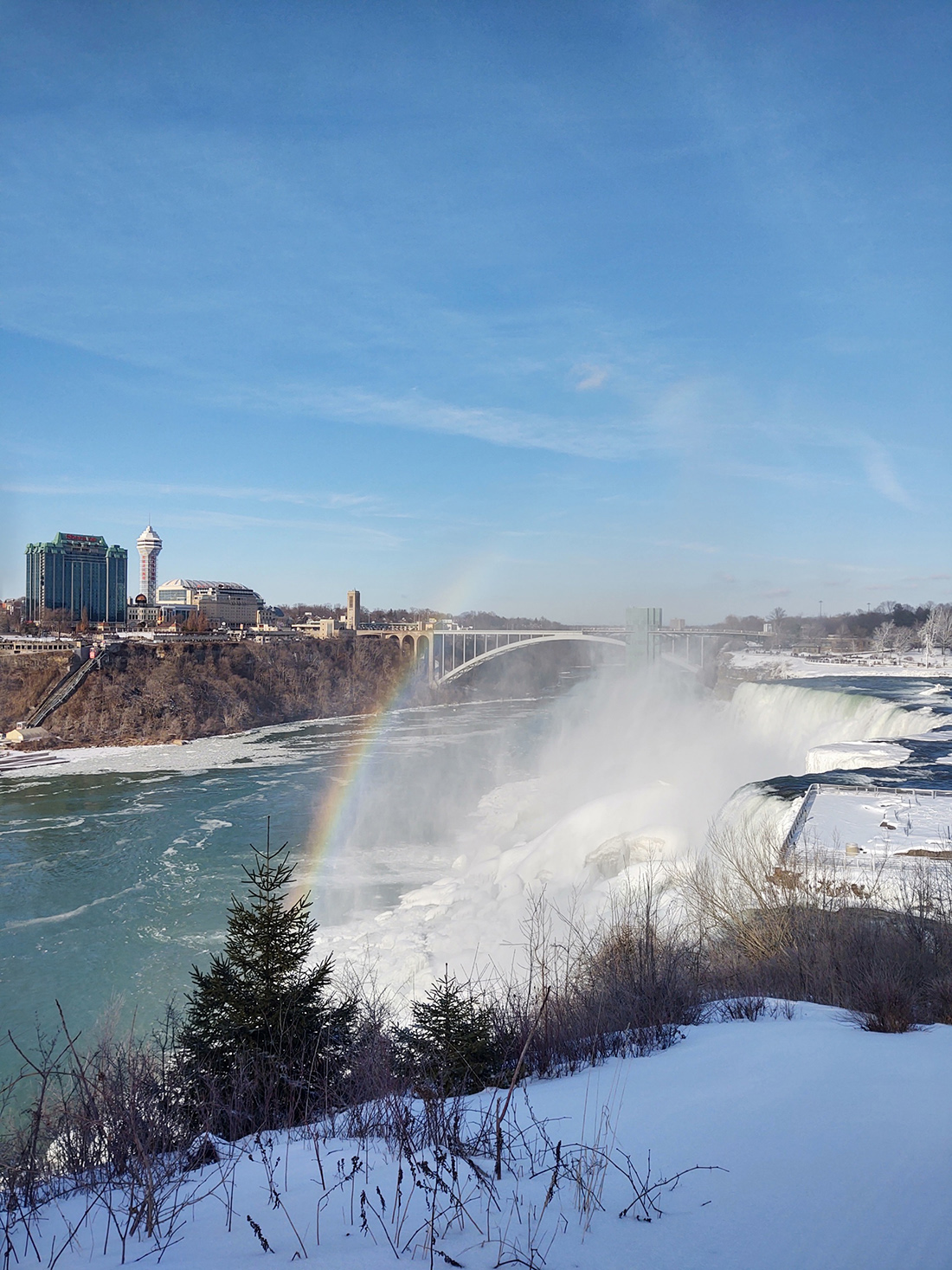 2. Akron Falls Park
I've been to the village of Akron before — cute little place for the most part, however we haven't spent much time there. Recently, I've been hearing about Akron Falls and never thought much about it until my friend, Maria Zwack, posted some beautiful pictures on her Instagram page (@mariajz1) and I was instantly hooked! I knew I had to go see this place. Well, when we went, I was completely surprised just how amazing it was, even before we reached the falls. The views while walking down a steep-ish descent to the creek below was such a sight. The soft marshmellowy mounds of snow and ice on top of the creek with flowing water peaking out here and there was so serene. After many pictures and videos, I eventually made it to the falls and my jaw dropped. Seriously, it dropped. I don't have the words to describe the beauty. No, it wasn't Alaska or the French Alps but this place WOW'd me. What's so amazing is that it's so close and I simply had no idea. This place is a must for all seasons. I saw pavilions, picnic tables, playgrounds, and washrooms. We will be back!
3. Buffalo Outer Harbor
We spent many evenings walking this path over the summer and fall. It's a great spot when you only have a short amount of time and want to go for a walk. It's not too long of a path and the views are so pretty. Though, I've never seen any benches, I have noticed that there are thick wooden poles in the ground with hooks in them. Always wondering why they were there, I envisioned possibly people using them for hammocks. I really wasn't sure but then one day I had to chuckle because there was someone lounging in one while tethered to the poles! Well, this place is such a nice spot to watch the sunset over Lake Erie, especially in this season. The blue and silvery winter colors come together so wonderfully with the sun's warm hues.
I hope this inspires those of you that choose to stay indoors during our long winter months to go outside. WNY winters are beautiful and amazing. Yes, it's cold, too, but get bundled up in lots of layers and it really won't bother you as much as you think. Trust me, if I can do it, anyone can! For those of you who love exploring, please send me some destination suggestions. I'm ready for my next adventure!