It's The Stories That Move Me
I will say it until my last breath, it's the stories that motivate me to offer gifts that people will cherish. All the hard work it takes me to complete a special keepsake that people will pass down is worth every minute, especially when I hear the reaction of the recipient. Here is a tender story of Barbe Johnson and her late husband, Tim.
I first met Barbe last year during the shutdown of 2020. I wanted to help the community in any small way I could so I decided to do a scrub cap drive for medical staff around WNY. Even though we had never met before, Barbe was one of the many wonderful people who joined me in this task. If you'd like to read about how my amazing team of generous volunteers made and donated over 2,200+ caps to area hospitals and beyond, here's a link to the original blog post in June of 2020 and another link to the followup I wrote in January of this year. Barbe lived quite a bit away from my shop but she gladly drove the 60+ mile distance round trip as often as 1 – 2 times a week to pickup supplies and drop off her newly sewn scrub caps. She even offered to make 100 to deliver to the hospital near her home. Everytime I'd see her during that dark time, she was always cheery and encouraging — she's simply a wonderful woman.
Well, she met her match, Tim, in their teen years, they were high school sweethearts. They were married for 36 years and had 2 children together. Even after all that time, Tim would leave her sweet notes like the one below that she's been carrying in her purse for some 15 years now. Sadly in 2010, the love of her life died from cancer. As you can imagine, nothing has stayed the same however, she is surrounded by tender notes, cards, and letters he's given her over the years. Recently, she reached out to ask if I could make a keepsake from the heartfelt handwritten note he wrote. I was more than happy to meet the challenge.
We setup an appointment for Barbe to come into the shop and she brought several cards and notes from Tim. She not only wanted something for herself but also for gifts for her children to be given on Father's Day.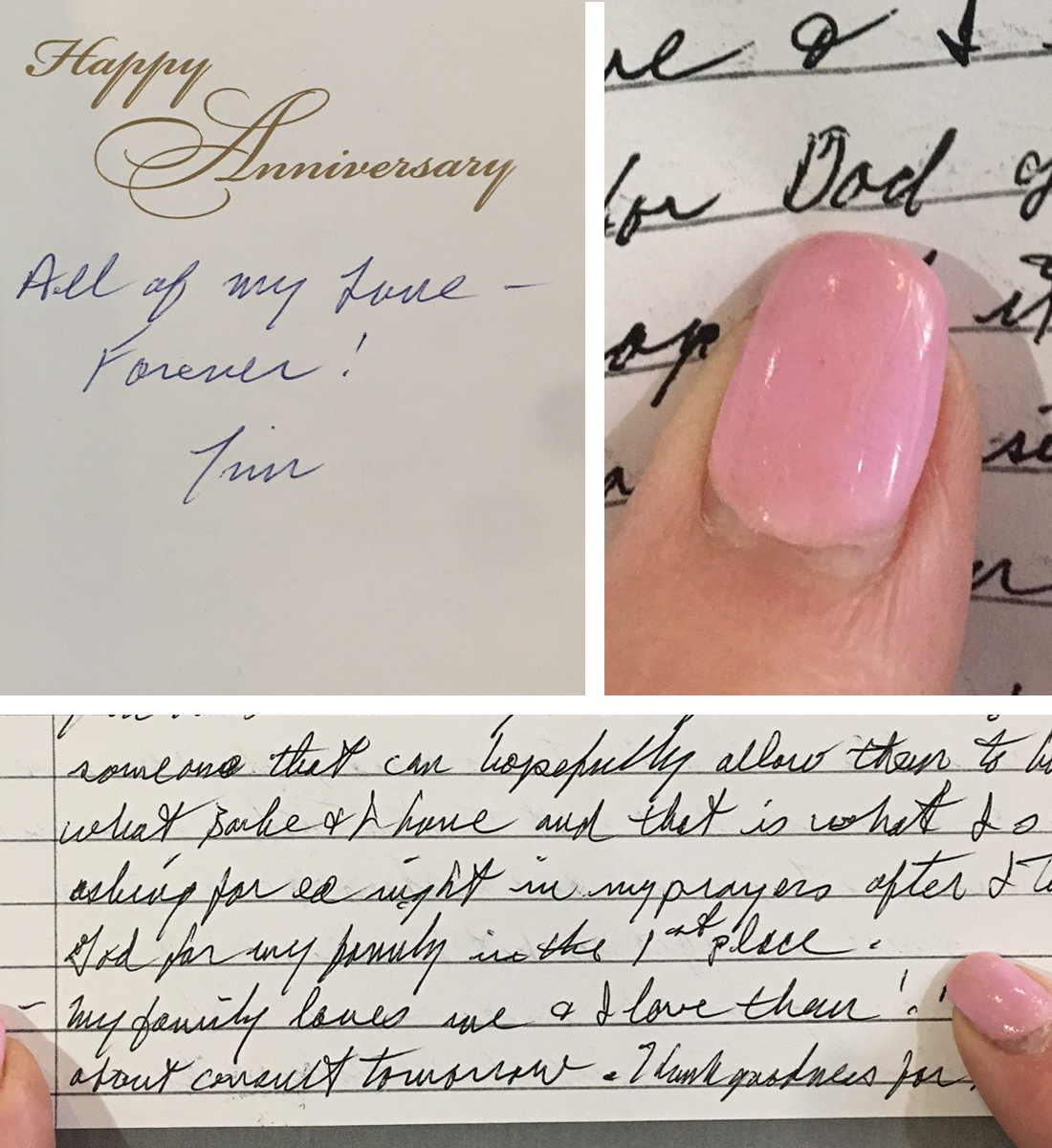 Once we figured out what will go where, I went to work digitally cleaning up the handwritten words. She supplied artwok and away I went putting the art together into a design. as well as finding the perfect item to print it on. After sending her proofs via email, Barbe told me she had tears in her eyes just looking at them. She approved.
It was printed onto a metal surface that was then adhered to a wooden frame/plaque. Below are some pictures of Barbe holding the finished pieces in front of our shop.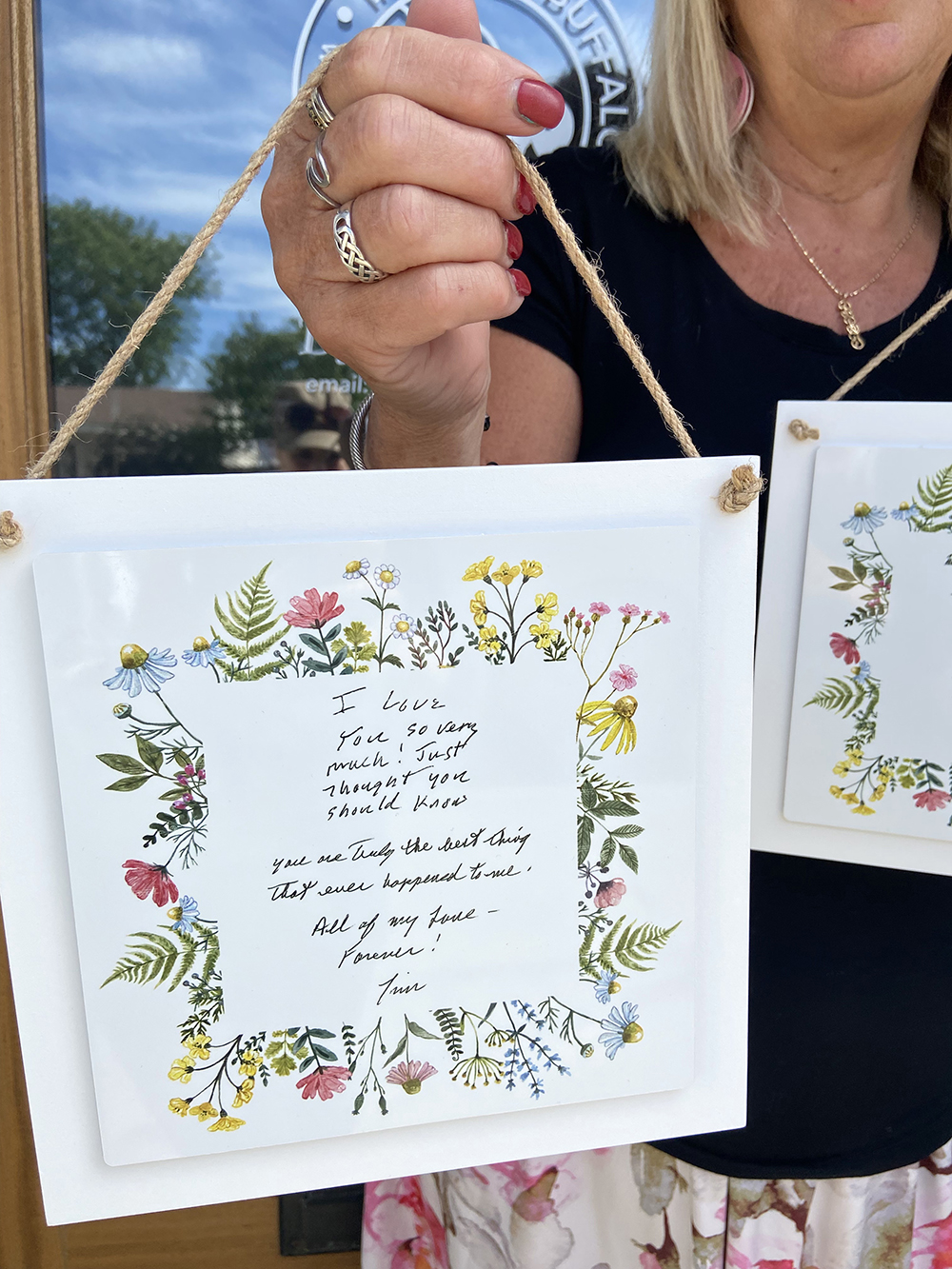 What a beautiful way to preserve the handwritten words to honor him and remember the love they shared. 💞
Here's what Barbe wrote about her children's reaction to the gifts:
My children were so touched by the gifts, both speechless and touching their hearts. Of course there were tears.
My son's young daughter asked "Daddy are those happy tears?"
He replied," both happy and sad. Happy because I loved my dad, sad because I still miss him every day."
Both kids treasure that gift as do I!
You can find Marinette on her Inspired Buffalo Facebook and Instagram pages. Do you have a unique gift you would like created? Email her at mak@inspiredbuffalo.com, call 716-545-5544, or message through @inspired.buffalo on Instagram.